There are a limited number of things I know about the chap who lived here before us.  He was well thought of by the village. People liked him, and enjoyed seeing him thrash his motability scooter at unprecedented speeds down the high street. As a younger man he'd run the local scout group, and there's quite a few middle-aged chaps I've met in the pub who knew him when they were a child. These facts have been gleaned in the local pub. There's only really one thing I know about him that comes from the house itself.
I know he had no fear of electricity.
I know this from the junction boxes, from the randomly placed pullswitches, from the wrist-thick bundle of cables that encircle the house at gutter level.
So, in an attempt to untangle the facts, we spent some time a few days ago finding out which MCB does what at the main consumer unit (which is halfway up the stairs)
So, here's a rundown of what we found:
Main switch – nothing to report
RCD, 63 Amps. Somewhat unbelievably, this immensely complicated tangle is protected by a 30mA RCD.  I find this both reassuring, and amazing.
MCB1, Type B32.  Label: Cooker. Connected to.. the cooker. we're off to a good start.
MCB2, Type B20. Label: Ring Circuit.  Here is where I'd expect all the wall sockets. Turns out it's only the sockets in the attic, and one socket on the gable end bedroom.
MCB3, Type B20. Label: Stairlift. We don't have a stairlift, so I was expecting this not to be connected to anything.  However, it runs the washing machine, the kitchen sockets and lights, one hall socket, the stone extension bedroom sockets and the immersion heater.
MCB4, Type B16. Label: Sockets. This one's not connected to anything.
MCB5, Type B16. Label: Sockets. This supplies half of the sockets in the living room.
MCB6, Type B16. Label: Sockets. Nothing.  Nada.
Another RCD, 63Amps.
MCB7, Type B16. Label: Outbuilding. This supplies a bunch of external lights and the shed, which has it's own consumer unit and more wiring than we can wrap our heads around.
MCB8, Type B16. Label: Sockets. This supplies a random smattering of sockets throughout the house, plus the lights in the stone extension ground floor.
MCB9, Type B20. Label: Sockets.  This powers the electric toothbrush.
MCB10, Type B32. Label: Water Heater. Not connected to a thing.
MCB11, Type B6. Label: Lighting. This supplied lighting to 70% of the house
MCB12, Type B6. Label: Lighting.  Lighting for one bedroom only.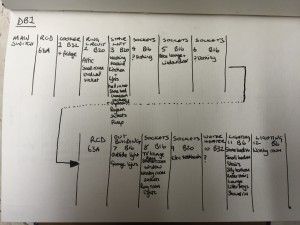 So there you have it. I'm no expert, but should lighting and sockets be separate? Isn't 20A a bit much for a toothbrush?
Looking at the cableruns, it looks like any time they wanted a new socket, light, or switch they simply looked for the nearest piece of wire, whether it be above or below, for lighting, sockets, ring or spur – and cut into it to splice a new bit in.
It's not really salvageable.  The house will need a complete rewire. But it's awesome fun!
We'd have loved to have met the previous owner. He seems like he was a real character – everyone has a good word to say about him. And he's created this crazy, wonderful, quirky house – which looks insane, but everything works. I suspect he was something of an eccentric genius and I wish I'd known him.